Three days filled with intense talks, meetings and debates in an international group of filmmakers, artists, producers, researchers, technology and film enthusiasts. The "New Visual Narratives" conference is an event that will sum up and open a new chapter in the Visual Narratives Laboratory at the Lodz Film School.
Exhibition open:
Friday, 1 July, 10am – 8pm
Saturday, 2nd July, 10am-7pm
Sunday, 3 July, 10am-5pm

We invite you to a curatorial guided tour, which will take place on:
July 1st at 6 pm and July 2nd at 11 am

Artists: Sebastian Baurmann, Dirk Hoffmann, Lena Thiele / Maciej Czuchryta, Marta Wieczorek / Krzysztof Grudziński / Miłosz Hermanowicz / Norman Leto / Monika Masłoń / Robert Mleczko, Radomir Majewski / Gaëlle Mourre / Barry Gene Murphy, May Abdalla (Anagram) / Krzysztof Pijarski / Wojciech Puś / Michał Stankiewicz / Paweł Starzec / Tytus Szabelski / Paweł Szarzyński / Weronika Lewandowska, Sandra Frydrysiak / Hana Umeda / Adam Żądło, Jowita Guja

Curators: Krzysztof Pijarski, Agnieszka Sural, Anna Szylar

The exhibition accompanying the conference will present works that enter into a creative dialogue with the medium of film, virtual reality and document. These will include both pre-premiere presentations of experiences created in the vnLab and guest projects by Polish and foreign artists. We are interested in works that look at current contemporary issues such as mental health, ecology, gender equality – works that deal with a world that is in many ways overvalued and fragmented.
Place
Łódź, Filmschool
Organizers
Lodz Film School, vnLab
Date
1-3.07.2022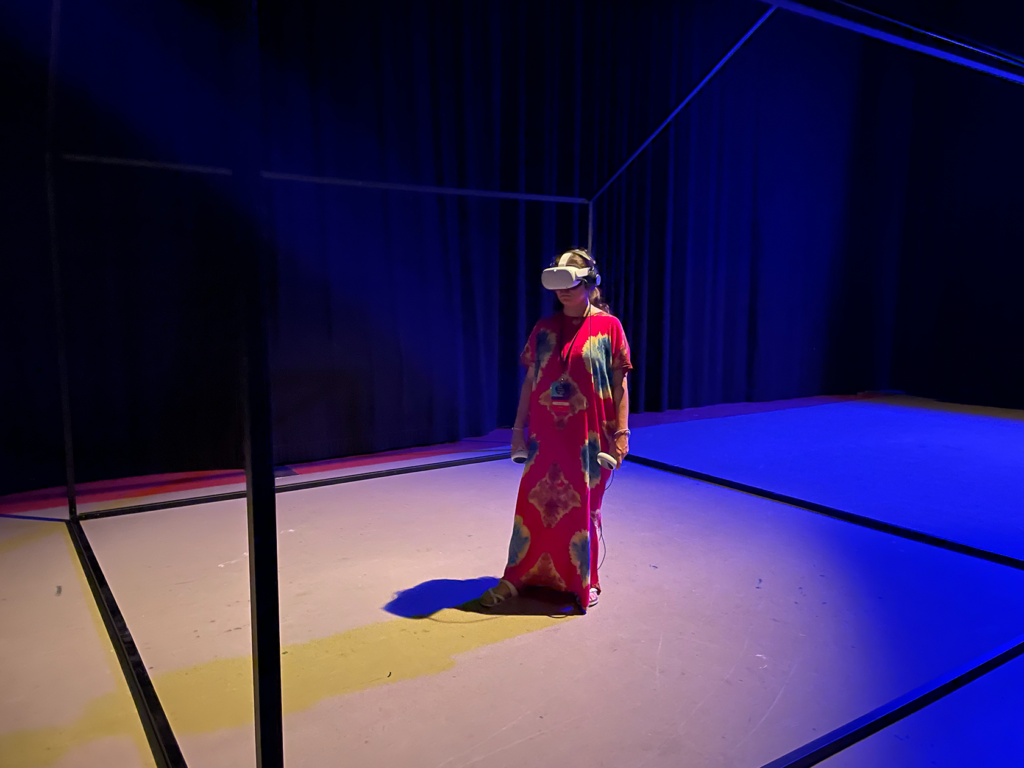 On 11.02.2022, the collation of the VR Control Negative project (directed by Monika Masłoń) – one of the six experiences selected in the 2021 competition – took place. The seminar was held in a hybrid form – in cooperation with DOM (Department of Multimedia Services of the Film School in Lodz) the event was realized in the space of the film hall and was broadcast in real time through the closed channel MS Teams.
The collation was attended by: VR/AR Studio managers Pola Borkiewicz and Jacek Nagłowski, Visual Narrative Laboratory managers Krzysztof Franek and Krzysztof Pijarski, and the director of the piece Monika Masłoń together with producer Agnieszka Sural. The schedule of the meeting consisted of three parts: a demonstration (the experience was accompanied by a specially designed installation, which is a permanent element of the project), a presentation (Monika Masłoń introduced those present to the structure of the project) and a discussion (after viewing and presenting the experience, those gathered moved on to detailed discussions about the piece itself). Control Negative was positively reviewed and will soon be ready for distribution.
Place
Łódź, Filmschool
Date
11.02.2022